News
19 March 2021:
EuCAP 2021 Conference Proceedings ready for Download
The conference proceedings are now ready for download at https://www.eucap2021.org/login_form . Please login and use the login data you created when registering for EuCAP 2021.
19 March 2021:
EuCAP 2021 Online Conference Platform is open
The Online Conference Platform (OCP) has been opened and can be accessed at https://ocp.eucap2021.org/. The login data to access the OCP has been mailed to all registered users. Please login, update your profile and already enjoy the OnDemand and ePoster area.
17 March 2021:
1)      All registered participants will receive the login for the Online Conference Tool on Friday, March 19, in the afternoon.
2)      The dial-in logins for presenters and chairs will be sent out 3 days before the session start
12 March 2021:
EuCAP 2021 hosts a record number of 16 Industrial Workshops
At this year's EUCAP edition registered delegates can attend 4 Scientific Workshops and a record number of 16 Industrial Workshops. To see the full list and get more detailed information on each workshop, see https://www.eucap2021.org/workshops/list-of-accepted-workshops
05 March 2021:
IMPORTANT: Instructions and Links for uploading pre-recorded material have been sent out
All authors of EuCAP regular/convened oral presentations and posters should now have received e-mails with instructions for presenters and an individual deep-link for uploading appropriate presentation material (pre-recorded videos, slides, posters and audio files). The instructions for presenters can be also downloaded here: https://www.eucap.org/files/instructions-for-presenters .
The time line is as follows:
-          March 8  presenter specification in EDAS
-          March 12 poster and audio file upload
-          March 16 pre-recorded video and slides upload
Please note: These deadlines are sharp! Not providing the upload material will be counted as no-show!
If you have not received the individual deep link for the upload, please contact tpc@eucap2021.org (Please check your spam folder first!)
03 March 2021:
Final Technical Programme available
Check out the final technical programme at https://www.eucap.org/conference/technical-programme and watch our youtube video https://youtu.be/3VID0e3hSwY  to see what else you will find at EuCAP 2021.
05 February 2021:
Early Bird and Final Manuscript Deadline extended to 12 February 2021
We decided to extend the early bird deadline for EuCAP 2021 by one week until 12 February 2021. This holds also for the deadline for the upload of the final manuscripts, which is also extended until 12 February 2021. This extension accounts for the delay  in the start of the registration.
02 February 2021:
Preliminary Programme available
The preliminary programme is now available for inspection at https://www.eucap.org/conference/preliminary-technical-programme. 
A final version of the programme will be released nearer the conference date.
25 January 2021:
Registration is now OPEN
22 January 2021:
Registration will open on 25 January 2021
The registration for EuCAP 2021 will open on 25 January2021. The early bird registration with reduced registration fees ends on 5 February 2021.
07 January 2021:
Problems with PDF eXpress® have been fixed
The problems several authors have reported with IEEE PDF eXpress® have been fixed. Please use the link PDF eXpress® with Conference ID 51087X.
21 December 2020:
TICRA-EurAAP Grant also available for EuCAP 2021 online.
Despite to change of EuCAP 2021 to a virtual conference TICRA Foundation and EurAAP are pleased to announce that they will offer 8 grants for EuCAP 2021 online. The revised information is available here.
17 December 2020:
New Sponsorship & Exhibition prospectus for EuCAP 2021 online available
The new brochure is now available. It presents the sponsorship and exhibition possibilities  at EuCAP 2021 online.
10 December 2020:
Dear Colleagues,
it was foreseen that EuCAP 2021, the 15th European Conference on Antennas and Propagation, should have taken place on March 22 - 26 at Düsseldorf Congress Center, Germany, as physical conference. The Conference Organizing Committee (COC) was looking forward to organize EuCAP in a very nice venue in the vibrant city of Düsseldorf, although having in mind the pandemic situation. Last summer with the low numbers of COVID-19 infections in Germany we hoped to have at least hybrid edition of EuCAP enabling the community to participate either on-site or online depending on the personal situation and preference.
Due to the rapidly increasing numbers of COVID-19 cases in Germany, but also in other parts of the world we saw this autumn, the idea of holding a purely virtual event matured in the last couple of weeks within the COC and the EurAAP Board of Directors. We came to the conclusion that it is in the interest of the antennas and propagation community to make a decision for a full virtual conference now and not wait until the authorities would prohibit the onsite of the conference on short notice before the conference. This brings planning dependability for delegates, sponsors and exhibitors and enables the COC to join all forces to organize a memorable virtual event.
Based on the survey done with the participants of EuCAP 2020 online, we are convinced we understand, what the delegates expect from an online event. Especially, we have seen the wish for more interactivity among the delegates and between delegates and sponsors and exhibitors. This will be a key feature in our Online Conference Platform. The COC will work hard on implementing as much as possible meeting the expectations at EuCAP 2021 online expressed in the survey.
We hope that you will register for and enjoy EuCAP 2021 online.  It is certainly not the same experience, as it would have been attending EuCAP 2021 in person.  On the other hand, in the last couple of months we have experienced a rapid and mostly successful transformation from physical to online events in our daily jobs ranging from online teaching and attending online conferences to online board meetings. Although, we are convinced to hold future editions of EuCAP onsite, new digital opportunities will arise and we will see some online elements evolving in the conference. EuCAP will be in the forefront of these developments and will keep its relevance as a major highlight for our strong antennas and propagation community remaining Europe's largest and most significant antennas and propagation conference.
The program of EuCAP 2021 is rapidly evolving. We have received 824 paper submissions and have just finished the review process. The notification of acceptance will be send out in the few days. The scientific paper presentations will be complemented by 6 scientific workshops, 7 short courses, three key note talks at the opening plenary and 12 invited talks. All keynote and invited speakers have already accepted. Despite the difficult pandemic situation already 4 sponsors and 11 exhibitors have signed for EuCAP 2021.
In the next couple of weeks I will inform you at www.eucap.org on the evolution of the digital conference and the planned digital features you will experience at EuCAP 2021. We will contact our sponsors and exhibitors, all authors of accepted papers, the invited and key note speakers as well as the organizers of short courses and workshops in order to inform and discuss the details of their expected digital contributions.
I hope, that you and your families stay healthy and I am looking forward to welcome you at EuCAP 2021 online on March 22-26, 2021
Sincerely
Thomas Kürner
EuCAP 2021 Chair
Cyril Mangenot
EurAAP Chair
08 October 2020:
TICRA Foundation and EurAAP announce 8 grant opportunities at EuCAP 2021

TICRA Foundation and EurAAP are pleased to announce that they will offer 8 grants for EuCAP 2021 in Düsseldorf, Germany.
The grants will be announced during the conference dinner on Thursday 25 March 2021. Each grant consists of a full registration fee, the conference dinner fee, as well as EUR 700 or EUR 1,000 for travel and accommodation depending on the awardee's country of residence.
For more information see https://www.eucap2021.org/awards/ticra-euraap-grants
11 September 2020:
EurAAP has updated its copyright policy, which applies for the first time to EUCAP 2021 paper submission:

https://www.eucap2021.org/files/EurAAPCopyright.pdf
The revised copyright form includes two new elements:
1. The copyright holder retains the copyright to the Work, including the right to duplicate the work and to permit others to do the same. In each case of authorized duplication of the Work in whole or part, the original publication by EurAAP must be properly credited by citing publication in the proceedings of this edition of EuCAP. As such, this removes the need for authors to ask EurAAP for copyright permission for papers submitted to EuCAP 2021 when they want to reuse the material of their paper in other publications, e.g., in a Ph.D. thesis or a book chapter.
2. The copyright agreement now also includes presentations given at a virtual conference to avoid the need for a separate agreement in case of such an event.
EurAAP and the EuCAP 2020 Conference Organising Committee hope that authors acknowledge the improvements implemented in this copyright revision.
24 August 2020:
EurAAP has now received all the information on which measures related to the COVID 19-pandemic have to be taken in order to run a conference at the Congress Center Düsseldorf. Based on this information we are now taking care that these measures will be included in the preparation of EuCAP 2021 to protect your safety & health on-site.
June 29, 2020: Virtual Flag Ceremony
It is a tradition that at the end of the closing ceremony of each EuCAP the EuCAP flag is handed over to the next EuCAP chair. This year this had to be done virtually at the end of EuCAP 2020 online. The two figures show EuCAP 2020 General Chair Olav Brejnberg taking off the flag in his office before sending it to Germany and EuCAP 2021 General Chair Thomas Kürner receiving the flag in his office at TU Braunschweig.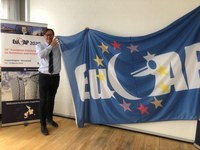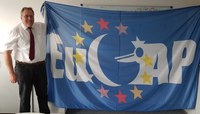 May 29, 2020:
The EuCAP 2021 Live Presentation will take place via WebexEvent on 5 June 2020 from 11.30-12.15.
The event can be joined using the following link:

https://tu-braunschweig.webex.com/tu-braunschweig-en/onstage/g.php?MTID=ef71d73ea0366dbc12c655e1a22da954d